As a mom of a soon to be pre-k graduate, I can say without a doubt it is the most delightful time of the year. I can also say I have shed more than few tears as my little girl prepares for kindergarten and joining her big bro at elementary school.
There are so many delightful possibilities to surprise your little graduate with. Whether you are looking for something sweet and sentimental or educational and fun, the following list will have something to show your preschool graduate how proud you are of their big accomplishment.
For the Little Techie: VTech Kidizoom
Smartwatch
DX2
Now that preschool is over and they are on their way to being a big kid, this VTech smartwatch can be fun with its camera and games, but it also makes moving fun with a pedometer to count steps. Comes in black, blue, pink and camo.
For the Aspiring Photog: VTech Kidizoom DUO Selfie Camera
I can say that this camera is a total win, my little one absolutely loves hers. She loves taking pictures of all the randomness around the house, playing the built-in games, and of course recording herself sing. Your choice of blue or pink.
For the Little Bookworm: Kindergarten, Here I Come!
Books are always fun, and this one gives your little a glimpse into what to expect as they prepare for kindergarten. Told with a fun rhyming poem and paired with bright, colorful illustrations, this one will be a summer favorite that they will want to read over and over.
For the Little Outdoorsman: Insect Lore Live Butterfly Growing Kit Gift Box Set
What better way to spend the summer than watching caterpillars transform into beautiful butterflies! This kit comes with a reusable mesh tent and five caterpillars that your little can feed, watch as they change into butterflies and then set free.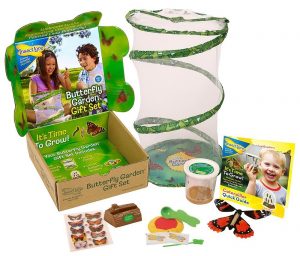 insect lore live butterfly growing kit
For the Little Investor: The Digi-Piggy Digital Coin Counting Bank
If your kiddos are like mine, they always want to know just how much money is in their coin bank. Well, now they will always know with this new take on an old favorite. The bank features a digital calculator that counts coins as they are dropped in.
For the Little Artist: Melissa & Doug Standing
Art Easel
This double-sided easel is perfect for taking outside and letting your little Rembrandt paint or splatter their next masterpiece. Equipped with plastic trays keeping all their supplies close at hand while they paint, draw on the dry-erase board or using the chalkboard.
Get real time update about this post categories directly on your device, subscribe now.