While some prefer the cleansing or moisturizing step during their routine, I am a sucker for a good toner. Toning is so important. With the right toner, you can strip away all of the bad stuff that accumulates on your face while leaving the good stuff. Think dirt and grime, bad oil and beyond. Using a toner or treatment lotion eliminates those bad things.
Many people skip this step because they don't realize the importance or because they're unfamiliar with how toning works. Toning can only help you in your skincare journey. While everyone needs something different that is catered to their skin type, I am lucky to have found a toner that I absolutely love. The Apoterra Rose Hydrating Toner with Hyaluronic Acid & Rooibos is my new go-to.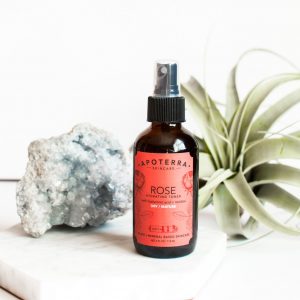 What's Inside The Apoterra Toner
First thing to know, hyaluronic acid is found in the human body. Essentially, it communicates cell-to-cell, boosting your skin's moisture while simultaneously reducing inflammation. Apoterra's version is vegan. It's combined with anti-aging rose water, clarifying rooibos tea, soothing aloe vera and frankincense hydrosol.
How To Use The Apoterra Toner
First and foremost, you should be using toner daily. The Apoterra version is hydrating enough to be used during your routine on a daily basis. Other toners can be too harsh for that frequency. Apoterra suggests misting or applying with a cotton pad after cleansing. Post-toner, you should follow up with your favorite serum or oil.
Why I Love This Apoterra Toner
When I spray the toner onto a cotton pad, I get happy inside. The toner is hydrating which means that it provides deep cellular hydration while banishing dry skin. Say hello to a healthy and smooth complexion. When you hydrate your skin, you're doing it a service. This toner has the added bonus of anti-aging effects and less breakouts. If you're new to the toner game, this is a great place to start. Apoterra is good for your skin and easy to use.
Get real time update about this post categories directly on your device, subscribe now.