Like most people living on Earth, my dental hygiene routine has been pretty status quo. Go to the dentist, receive a new tooth brush, use a generic minty toothpaste from CVS, floss, repeat. Little did I know that the grass was greener, or rather, blacker, with a different kind of routine. Introducing: charcoal toothpaste.
Some Background on Charcoal Toothpaste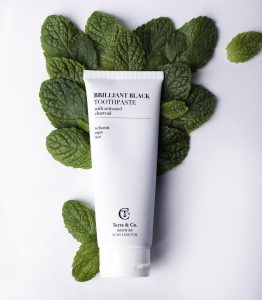 Charcoal toothpaste, believe it or not, isn't new. It's been on the scene for a while but is starting to creep its way into the mainstream with the help of companies like Terra & Co. Generally speaking, Terra & Co.'s main goal is to provide the public with natural, non-toxic, green and cruelty-free dental hygiene products. Little did I know that the products that I'd grown accustomed to had certain toxic chemicals that were doing more permanent damage to my mouth, gums and overall health.
Terra & Co. combats these companies by offering a comprehensive dental hygiene routine to the public. The toothpaste doesn't have any fluoride, SLS, peroxides or Triclosan, which is awesome.
Toothpaste from Terra & Co.
Terra & Co. has a Charcoal Toothpaste & Toothbrush Set that is definitely worth looking into. I've been using it for a couple weeks and can definitely note a subtle change in my teeth coloring.
The brush is even cool! It's 100% biodegradable made out of bamboo and nylon bristles that are activated charcoal-infused to double the whitening effect. Can you say double duty? Additionally, all of the ingredients within the toothpaste work harder for your teeth. The activated charcoal helps to remove stains and promote healthy pH levels, the baking soda works to naturally whiten and polish, and the coconut oil helps remove the plaque that can cause gingivitis.
Give charcoal toothpaste a try and let me know how it goes. It may be one trend that sticks around for the long haul.
Get real time update about this post categories directly on your device, subscribe now.