Summer is a great time for getting together with family and friends and it's also my excuse for trying new fruity cocktails. Here is a list of my all-time favorites, pick one or two and give them a try at your next gathering. You will surely be the hostess with the mostest.
Summer Vodka Mint Lemonade Cocktail
A refreshing summer lemonade cocktail to serve at a backyard party or enjoy poolside.
INGREDIENTS
2 cups Vodka
4 cups lemonade
fresh mint
1/2 cup sliced strawberries
lime
ice
INSTRUCTIONS
Combine the vodka, lemonade, half of the strawberries, and half of the mint leaves in a mixing bowl. Muddle until the fruit is slightly mashed. Fill a mason jar or high ball glass with ice. Add the rest of the mint and berries to the glass, then pour in the vodka lemonade mixture over the ice. Garnish with a slice of lime. Enjoy!
Raspberry Vodka Mojito
This raspberry vodka mojito recipe is lightly sweet and very refreshing!
Ingredients
FOR THE RASPBERRY SIMPLE SYRUP
1 cup water
1 cup sugar
6 ounces fresh raspberries
FOR THE RASPBERRY VODKA MOJITO
1 lime, cut into slices
6 mint leaves plus additional for garnish
3 to 4 raspberries for garnish
2 ounces Vodka
lime seltzer water or lime sparkling water (4 ounces)
Instructions
MAKE THE SIMPLE SYRUP:
In a saucepan over high heat, combine sugar, water and 6 ounces fresh raspberries. Bring to a boil. Reduce heat and simmer 3 to 4 minutes. Remove from heat and let cool. Strain to remove seeds and chill.
MAKE THE RASPBERRY VODKA MOJITO:
In a cocktail shaker, muddle the mint and half the lime slices
Add the vodka and fill shaker with ice
Cap the shaker and shake 2 to 3 minutes
Strain the vodka into a serving glass
Add more ice, 3 to 4 TBSP raspberry simple syrup, and top with sparkling water. Add the remaining lime slices, additional raspberries, and more fresh mint as desired.
Mama's Favorite Michelada
Pairs well with backyard fajitas!
INGREDIENTS: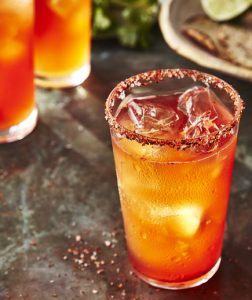 3 tablespoons coarse salt
a few lime wedges, for garnish
1/2 teaspoon chili powder
2/3 cup cold clamato juice
1/4 cup fresh lime juice
1/2 teaspoon worcestershire sauce
3/4 cup cold mexican beer (I love tecate or dos equis)
drop of maggi sauce
drop of hot sauce
DIRECTIONS:
Mix the salt and chili powder together on a plate. Rim the edge of the glasses with a lime wedge, then dip in the salt and cover the rim.
Fill the glasses with ice. Divide the clamato juice into the glasses evenly. Add the lime juice and worcestershire sauce to each glass. Fill each glass with the beer. Add a drop of hot sauce and maggi sauce, then stir. Garnish with a lime wedge and serve immediately.
Lazy Day
For those days you just want to lounge by the pool.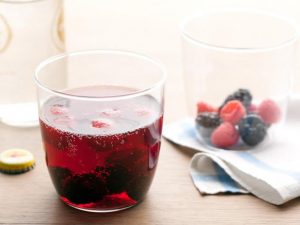 INGREDIENTS:
1 part red wine (a sweeter wine would be best)
2 parts La Croix Mixed Berry Sparkling Water
Ice
Frozen Blueberries or Raspberries
DIRECTIONS:
Add frozen berries to bottom of the glass and smash with the back of a wooden spoon. Add ice, pour wine, then sparkling water and give it a little stir. Sip and enjoy.
Get real time update about this post categories directly on your device, subscribe now.