In a world of self-care, a lot of factual information can get lost in the sauce. While many companies claim to be the end-all-be-all for health and wellness, few actually can live up to their promise. Supplements are just that. They're meant to supplement your already healthy lifestyle. That's why I like Moon Juice so much.
As of late, I've been trying to be a little more active and a little more conscious of what I eat. It hasn't been easy. Waking up at the crack of dawn to wake up is not exactly my favorite thing in the world. But something I've really come to look forward to is the smoothie I reward myself with post-workout. A little frozen mango, a little peanut butter, a little oat milk and, as of late, a little sprinkle of Moon Juice.
Moon Juice is "the rescue for plant-sourced alchemy to nourish and elevate body, beauty and conciseness." Through the healing focus of raw vegetables, fruit, petals, herbs, roots, nuts and seaweeds, Moon Juice creates a wide range of products to lend yourself to a more holistic lifestyle. I approached Moon Juice because a) I didn't know too much about this sect of wellness and b) some of my favorite influencers were lauding their products.
For daily nourishment, beauty foods and high-powered natural remedies, Moon Juice is your one-stop shop. For those of you who are unfamiliar with the world of adaptogens, they're superherbs and super mushrooms that help expand your body's capacity to handle mental, physical and emotional stress. While I'm no doctor or health guru, I can say that in the weeks I've been using them, I feel a little calmer when I get into work.
Looking to dive in but don't know where to start? Below are the three products I've introduced to my daily routine.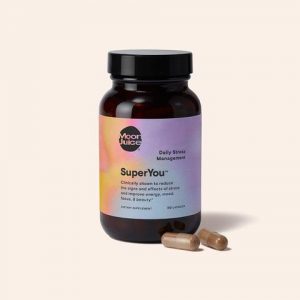 SuperYou is Moon Juice's way of combatting life's daily stresses. It's a clinical strength blend of four potent adaptogenic herbs that address the effects of stress on the mind and body. By normalizing cortisol levels, it helps reduce that stress while in turn, enhancing energy, mood, and focus. I take two before going to bed.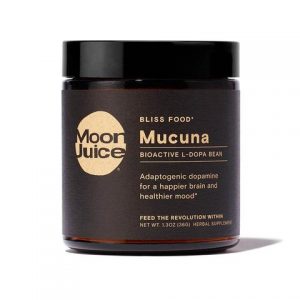 Don't be afraid of the names of the following two products. Mucuna is an adaptogen: a potent, safe and corrective superherb that protects the body from the damaging effects of stress. Moon Juice's Mucuna comes in the form of a powder and contains L-dopa, the immediate precursor to dopamine. That's the neurotransmitter that ignites the brains' pleasure centers. For this, I tap a little into my smoothie after a workout.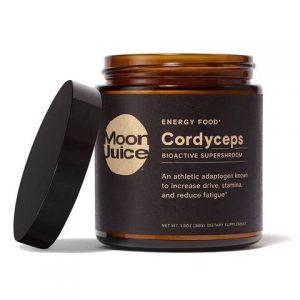 Cordyceps sounds intimidating but isn't! It's an adaptogenic mushroom that helps the body handle stress, support healthy immune and vascular systems while also sustaining energy and stamina. This is great in your daily cup of coffee but Moon Juice even suggests adding it to chocolate milk, yogurt or homemade granola.