I'm all for routine. Whether it's waking up at the same time every morning, having a workout regimen, or taking a certain route to work, routine keeps us sane. However, if there's one place that it's okay to switch things up, it's in your skincare routine. Your skin is constantly changing — whether that's due to stress, environment, climate, etc. — and it's up to you to make sure you're treating it with the care it needs. Sometimes that means diverging from your routine in favor of a new and shiny product. For example, I've recently entered into a new relationship with NOTO Botanics; I have to say it's going exceedingly well.
NOTO believes there is "power in simplicity" and I can't help but agree. NOTO's line is natural, fluid in gender and multi-use: all things we love. This means that not only is it good for you, it's good for your mate and can be used in a variety of ways. Oh, and the company is vegan and cruelty-free which is something we can all get behind. Essentially, their skincare was created as a means of celebration of loving the skin we're in. Founder Gloria Noto has been in the industry for over 11 years, witnessing how so many products are harmful for you and the environment. She set off to change that with her namesake brand.
The word "noto" is Sicilian in it's origin meaning "noted" or "notorious." Below are my favorite or noted products from NOTO's line of skincare offerings.
First up in your NOTO routine: The Resurface Scrub. Made with blood orange, alpha hydrant acids and walnut powder, the scrub gently polishes away the crappy stuff that lives on your skin. Therefore, I have this in my shower; I like to use it prior to my cleanser to fully slough off bad skin. That being said, NOTO suggests using this twice weekly.
Praise be to the serum. If you're not using a serum, it's time to start. It bridges your skincare routine together from wash to moisture. NOTO's Deep Serum is nutrient rich, meant to brighten, protect and hydrate. Above all, the best part is that it's formulated for any and all skin types from sensitive to oily to acne-prone. Furthermore, grab a jade roller to allow the product to be fully absorbed into the skin.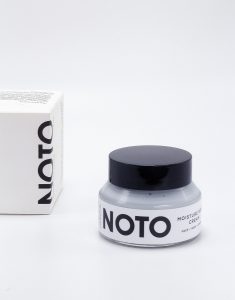 The final step: NOTO's Moisture Riser Cream. It's nearly wintertime which means your skin is practically begging for hydration. Therefore, it's time for this multi-purpose cream. Great for the face, neck, hands, etc., skin is left softer, more plump and nourished post-use. Pro Tip: Leave this bad boy in the fridge for a cooling effect upon application. As a result, skin will be cooler, plumper and ultra-moisturized.
Get real time update about this post categories directly on your device, subscribe now.