So if you've been following along, you'll know by now that I am not, in fact, a mother. However, I'm a woman who loves skincare and beauty of all types. I'm also someone who loves learning about new trends and products. This is regardless if they were created with me in mind. That's part of the reason writing for Les Little has been so fun thus far. So, imagine my excitement when I came across Pinr.ose, a fragrance company that designed a scent especially for pregnant women and new mothers.
First, a little bit about Pinrose. Pinrose was built by co-founders Erika Shumate and Christine Luby with a few simple goals in mind. They wanted to create high-quality and interesting fragrances, re-imagine the status quo, and laugh daily. What I like the most about their story is that they touch upon the simple but comforting experience of applying perfume. It's a small thing that we do that brings joy to our day. Depending on the scent, you can channel a memory, feel sexy, or feel comforted. Pinrose was "designed by real women for real women." Which brings us to the perfume for pregnant women and new mothers: the Merry Maker.
The Story Behind The Fragrance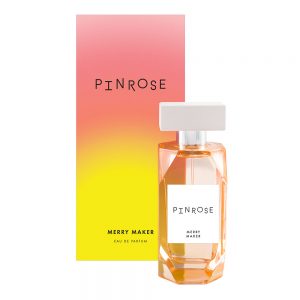 Once upon a time, Shumate asked Pinrose's master perfumer (and new mother), Christelle Laprade, to design a fragrance. But this was not just any fragrance. She wanted something with this niche audience in mind. Ideally, it would ease unpleasant pregnancy side effects while also promoting the bonding that occurs between a mother and a newborn. Thus, Merry Maker was born. Merry Maker is crafted from nature-inspired scent notes, chosen for their ultra-soothing qualities. Something that I learned is that smell is one of the earliest senses to emerge in the fetus and newborns orient themselves by smell more than any other sense. Isn't that so cool?
Laprade went on to say, "I designed this fragrance around my own experience of being pregnant and the mind set I was in at that time. I wanted to convey a feeling of joy and peace while capturing the soft femininity of a mother's skin." For me, that is just about the most beautiful thing I've ever heard.
The Merry Maker Scent Notes & Aromatherapeutic Qualities
While all of the above is fine and dandy, it only works if the perfume smells wonderful. I'm elated to say that it really is. Each scent note works together to not only smell nice but create a calming effect for both mother and baby. Grapefruit curbs depression and reduces food cravings. Clary Sage helps to aid sleeplessness. Peppermint helps stymy light-headedness. Bergamot relieves anxiety and stress. And the list goes on and on. The fragrance is manufactured in the USA, phthalates and paraben-free, cruelty free and made with high-quality ingredients.
If you're expecting or a new mother or know someone who is expecting or a new mother, Merry Maker is the perfume for you. It's delightful scent and calming qualities make for one unique fragrance.
Get real time update about this post categories directly on your device, subscribe now.