Though it's hard to admit, summer is, in fact, over. Gone are the days spent at the beach, sand in between my toes, sipping a Corona, enjoying the sun on my face. Instead, days have been replaced with disgusting New York City humidity with the occasional blustery cold day that seemingly comes out of nowhere. I promise I'm not bitter. Given all of this, you can imagine my delight upon finding out about The Seaweed Bath Co.
I'm sure you're thinking "Gilly, you've lost it. Seaweed is the one reason why we don't love the beach." But that's where you're wrong, readers! The Seaweed Bath Co. instills the magic of bladderwrack seaweed into their products, what they call a "hero ingredient." The company sustainably hand-harvests certified organic seaweed off the coast of Maine. If you're only used to peeling seaweed off in the ocean while simultaneously shrieking, you haven't experienced the skincare benefits that naturally detoxify, replenish, nourish and protect your skin (and hair!)
To help me get past my mild seasonal-depressive disorder, I've essentially thrown myself into the deep end of The Seaweed Bath Co.'s lineup of hair and skincare. Below are some of my favorites.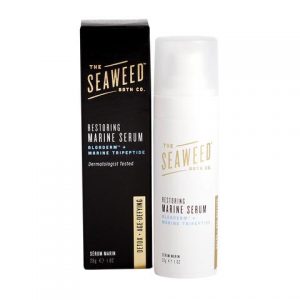 Serums are my life blood. I'll never forget the day I started introducing a serum into my nighttime skincare routine. The Seaweed Bath Co.'s Restoring Marine Serum calls upon science to execute best results. Using an AlgaDerm complex (a Seaweed Bath Co. owned formula with Vitamin B3 & multiple strands of seaweed), the serum works to detoxify and restore skin. Additionally, it uses Marine Tri-Peptide to support natural collagen production. We love collagen because it makes your skin plumper and more youthful looking. I use the serum post cleanse before applying moisturizer. It's also great directly after using a mask because it quickly restores moisture.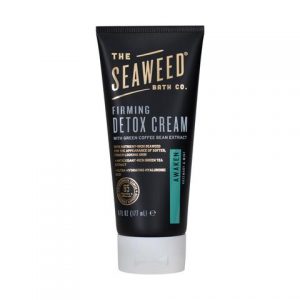 I think I can comfortably say that no one likes cellulite. We spend our lives fending it off with diets and exercise and more. Well, now there's a cream to help fight it. The Awaken Firming Detox Cream deeply moisturizes and detoxifies for smoother, firmer-looking skin which is always the goal. Remember when I mentioned bladderwrack seaweed? Yeah, that's in here as well as 65 other vitamins and minerals that achieve that skin elasticity you crave. Feel free to swap this out with whatever body lotion you're currently using for optimal results.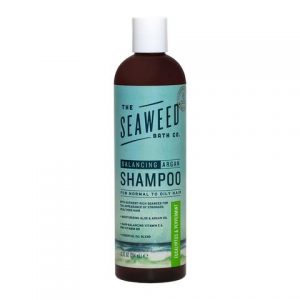 You didn't think I'd forget about haircare, did you? Let's start with the basics here. This combo of shampoo and peppermint is delicious smelling. It's the kind of subtle scent that lingers long enough for people to actually comment on how good your hair smells. That's serious. Beyond that, folks with normal and oily hair will love this shampoo and conditioner for the argan oil that helps maintain moisture and shine as well as the coconut and avocado oils that work to moisturize the hair and scalp. All in all, it kicks your drugstore brand's butt.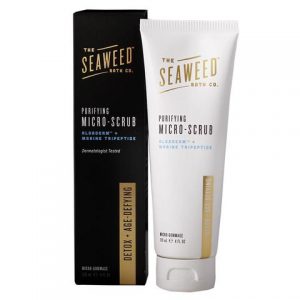 The first time I used this scrub, I literally yelled out the door of my bathroom to my roommate, essentially shrieking with how much I liked it. It strips the gross stuff off of your face in the most gentle way possible while leaving this delightful tingling sensation alongside newly smooth skin. The scrub calls upon the same AlgaDerm Complex and Marine Tri-Peptide that I mentioned earlier to detoxify, nourish, protect and increase collagen production. It's definitely become a staple in my weekly skincare routine; I use it a couple times a week before bed.
So no, it's not summertime anymore but that doesn't mean you can't call upon the magic of the ocean to help transform your current skin and haircare routine.
Get real time update about this post categories directly on your device, subscribe now.