Skincare, makeup, clothes, shoes: I'm a girl's girl through and through. Another thing to add to that list? Fragrance. I can't leave the house without a spritz of the perfume I'm using at the moment and live for sniffing out my next scent. While I admire those who have one, classic fragrance, mine depends on the mood I'm in, what I'm wearing, who I'm seeing and beyond. My latest and most favorite scent comes from Skylar.
Skylar was built on the concept that fragrances do not have to contain allergens or harmful chemicals to achieve the perfect scent. After months of testing, Skylar's collection of perfumes are natural with ingredients that you can get behind. If something is going to stay on your skin all day, it might as well be good for you.
How It Works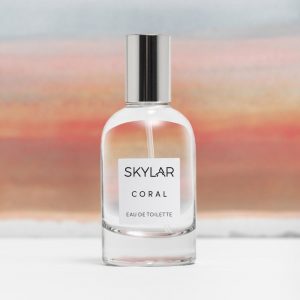 Love a company that starts with a quiz. Skylar is no different. At the beginning of your fragrance journey, you can take a quiz online that will guide you to your perfect Skylar scent. There's an option for yourself and as a gift which is perfect for this time of year. I did the quiz once for me and once for my mom and now I've got one less gift to think about.
You start out with some self-reflection about what words describe you, ranging from shy to adventurous. From there, it asks when you feel the best, whether that be meditating or cooking. At the end of the quiz, Skylar sends you the scent that fits you the best. After going through the quiz, I discovered that Coral was my scent and my mom was Capri.
Why It's The Perfect Gift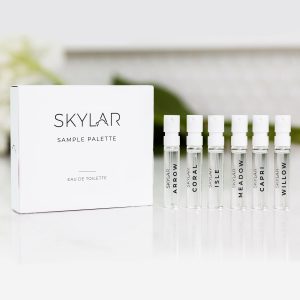 So not only can you find a gift for someone via the quiz, Skylar also offers up a sample box. The Sample Palette is perfect if you aren't as sure about the quiz answers. For example, filling out my mom's was easy but if I were buying for a coworker, this would be the better option. The Palette has all six scents; you'll also earn a $20 credit when you sample toward the full-size purchase.
Finding a scent is tricky business. You want it to be reflective of who you are and where you're going. Skylar makes the process of finding a fragrance fun and makes gift-buying a little easier. Want 10% off your Skylar order? Just use the code LESLITTLES10.
Get real time update about this post categories directly on your device, subscribe now.