Catching a cold is not as tough as understanding the law of gravity. A slight breeze, lots of sweat, and an air conditioner can make you or your child fall sick in just no time. You need to visit the doctor as soon as possible, and after that, a thermometer is used to measure the temperature every now and then. But how do you understand the best thermometer for your child? Are thermometers different for toddlers, youngsters, and elders? Can a thermometer detect internal fever? Are you a new parent? Are you struggling to understand how a thermometer works while taking care of your kids when they are sick? Then here is a short and easy guide on how to take the temperature of your child while maintaining the best possible environment.
You can also have many indoor plants for fresh oxygen, which will help your kid get back on his feet in no time. Choose the best humidifier for plants and keep your plants and your family healthy all year long!
Using a Thermometer to Check Temperature
Thermometer Types
There are different kinds of thermometers available in the market. Back in the old days, glass mercury thermometers were widely accepted as the best. But as time passed and newly updated thermometers have been created, as of now, digital thermometers top the list. You should always keep two separate thermometer(s) for baby taking the rectal and oral temperatures and make sure that you sanitize the tip every time. You can also use a digital ear thermometer and temporal artery thermometers to take ear and forehead temperatures using an infrared scanner. A new kind of thermometer non-contact is also available, and they are simply super hassle-free to use. You just have to hold the meter in front of the forehead and wait for it to beep. It hardly takes about 20 seconds to give you a perfect outer body temperature.
Thermometer According to Age Groups
You cannot expect a 2-month-old baby to hold onto the thermometer in his armpit. Taking the rectal temperature using a digital thermometer will give you the most accurate results. You can also use a temporal artery thermometer at this age. A combination of these two thermometers will work perfectly fine up to the age group of 4. After that, you can start using a digital thermometer under the armpits or even a digital ear thermometer.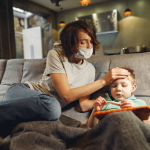 There are different ways to take the temperature when it comes to your baby. Your doctor might have asked you to take the rectum, or armpits, or maybe the mount. So, here is how you should be taking temperatures.
Mouth:

Clean the tip of the thermometer and place it under the tongue of your child. You should wait for at least 15 minutes if your baby has been eating or drinking something.

Rectal:

Rub a lubricant on the tip of the thermometer and gently insert it to 1 inch in your baby's anus. Wait for it to beep and take it out. You have to be extra careful while using a thermometer like that; always make your baby lie down on a flat surface and never push the thermometer more than it is required.

Ear:

For this, you have to use the digital ear thermometer. Gently place it in the ear canal of your child; you have to pull your little one's ear back a little bit. Then wait for the thermometer to give you a signal and then remove it and note down the temperature.
Underarm: Cleans the tip with some alcohol, or dry sanitizer, then place it in between the armpits. Hold your child tightly so that the thermometer can get the maximum surface to take the temperature. Keep an eye out for the thermometer so that it does not get tangled in the clothes; otherwise, it will give you the wrong temperature.
Your child's health is always going to be your priority. You can relieve them of the sickness by due care, comfort, and timely medications. Apart from regular temperature checks and medications, make sure that your child has sufficient food, enough water, and is getting a good amount of sleep. The body is currently troubled with an infection, and for that to go, all of these are extremely necessary. So, make sure that you do everything at the best of your capacity so that your child is healthy, happy, and chirpy all over again.
You can tell us about your experiences and maybe drop some tips for all the parents in need in the comment section!