I, like most people these days, feel like I am constantly on the go. For me, when I am running around like a chicken with my head cut off, it typically results in a dip in my personal hygiene. It's not pretty to admit but it's true. On days where I'm leaving the house at 8am and not getting home until after 10pm, my skin suffers. I've been on the hunt for products built to help people that are in this predicament and was delighted to find Busy Beauty. Like the name suggests, Busy Beauty is there for you during the times when you find life to be a little overwhelming.
Busy Beauty creates products that help women shorten their daily personal care routines. They found that the length of the average beauty routine dramatically increased from 17 minutes in 2006 to 40 minutes in 2016. Who has that kind of time?!
Based in Boston, the team at Busy Beauty has made it their mission to give women more time back in their day, one product at a time. With their suite of products, you can shampoo, condition, wash and shave all in under five minutes. Check out more Busy Beauty below.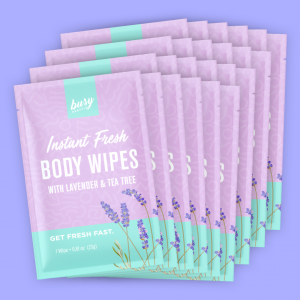 Sweat, oil and odor begone! When there's no time to shower, these Instant Fresh Body Wipes will do the trick. Each wipe is 10 inches by 8 inches and is twice as thick as the average baby wipe meaning more coverage overall. They're also safe for sensitive skin; the tea tree oil gently removes odors and bacteria while the cucumber, chamomile and aloe extracts help soothe the skin.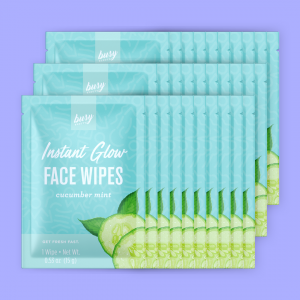 If you've been using the same facial wipes since high school, it may be time to upgrade. Great for post-workout or after-work, the Instant Glow Face Wipes are here to help you save time. They brighten and tone the skin while also easily removing any traces of makeup.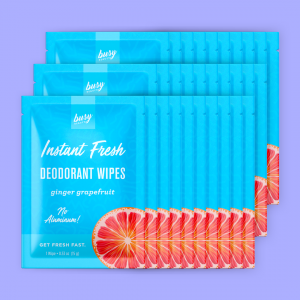 We've all been at our desk when we smell something. Could that be us?! On particularly warm days in NYC, my deodorant application in the morning just does not cut it over the course of the day. These allow you to stay smelling great and feeling fresh on the go. I like to keep a couple in my work purse as well as my gym bag. You never know when the moment might strike.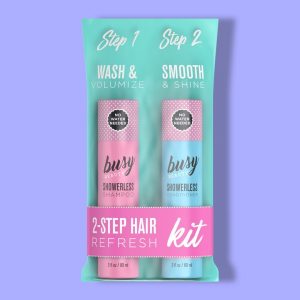 As a rule of thumb, I typically wash my hair every other day. On the days that I don't wash my hair, I like to use Busy Beauty's Hair Refresh Kit. It's a duo of dry shampoo and dry conditioner that allows me to feel fresh despite not actually washing my hair. The dry shampoo works to absorb oil, sweat and odor while the dry conditioner works overtime to tame flyaways and frizz. The best of both worlds!