Many women are guilty of this makeup crime: not cleaning your brushes enough. It's gross for me to admit, but I rarely ever clean my makeup brushes. Some women I tell this to are repulsed, while other women laugh and say they rarely clean theirs either.
Obviously, cleaning makeup brushes is important, but how often should it be done? And more importantly, what is the proper way to get rid of all the built-up gunk?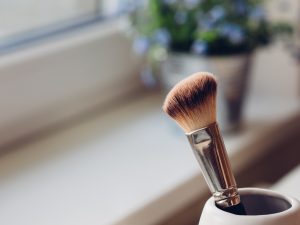 According to my personal research (AKA, many Google searches), you should be washing your brushes once per week. This is because you're using these brushes on your face, so they should obviously be as clean as possible! Brushes cling to oil and dirt that may have been on your face, so not cleaning them will just put that nasty junk right back where it came from. It is especially important to clean brushes used around the eyes in order to prevent the spread of bacteria.
Thus far, we have established the fact that….yes, it is actually important to clean your makeup brushes. However, it is also very important to clean them the proper way. Improper cleaning can lead to the bristles falling out of the brush due to harsh cleaning products. Here is a step-by-step guide on how to wash your beauty blenders and brushes:
Wet the end of the brush (not the base!)
Put a little bit of soap onto the brush
Rub the brush around on your palm
Run it under water
Squeeze out the water
Press the bristles back into place and let it air dry
Do not place the brush vertically to dry, as the excess water will run back towards the brush head and potentially damage it. Another DIY tip for brush cleaning is to use baby shampoo as an alternative to buying brush cleaner.
Next time you go to apply your makeup, wash your brush — your face will thank you for it!