We have a variety of home cleaning products to choose from but using different products for every single purpose can seriously balloon up our bill. However, there are many simple DIY home cleaning products that do the job equally well with just a fraction of the cost.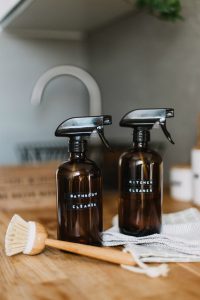 Photo byDaiga EllabyonUnsplash
Add vinegar to get rid of that damp smell on bath towels
Bath towels can get damp and smell like mildew, if they are not dried properly after use. Even after tossing them in the washing machine, the smell can still linger. How can we get those towels smelling fresh again? My solution is to use vinegar to get rid of the odor, and it has worked very well for me. Put the towels inside the washing machine with a cup of distilled white vinegar and let the machine run so it will just be vinegar and water. In this first cycle, please do not add any other products. Some people use hot water, but cold water has worked just as well for me. Depending on how dirty the towels are, I might run it for another cycle, now adding cleaning detergent followed by fabric softener.
Homemade Febreze
This tip is thanks to a friend of mine, who told me that I can easily make my own concoction of a Febreze-like spray. What you would need are the following things: fabric softener (I use Downy but you can use whatever you already have), white vinegar, water and a spray bottle. The formula that I use is 2 tablespoons of fabric softener, 2 tablespoons of vinegar, and fill your spray bottle with water. Then spritz away! You can spray it around the room, your curtain or even your sheets.
Alternatively, if you want to avoid fabric softeners, essential oils can do the trick. Simply mix 20-25 drops of essential oil, 2 tablespoons of vinegar and fill the rest with water, and voila! Your DIY home cleaning air freshener!
Lemon, a multipurpose agent
You might be familiar with the term "when life gives you lemons, make lemonade," but lemons can do so much more! It can act as a degreaser, polishing chrome faucet, sanitizing your garbage disposals or even cleaning your microwave. My favorite one is to use diluted lemons in a spray bottle to clean my laminate countertops in the kitchen and living room. It cleans and gives a very fresh zesty smell to my rooms. Take a look at this link that lists out all the 24 things you can do with lemons.
Reusable and washable mop cloths
Instead of using those Swiffer Sweeper Wet Mopping Pads, why not buy reusable microfiber mop pads that you can detach and toss into the washing machine when they get dirty? You can get something like this self-contained 3-in-1 mopping kit, which includes the microfiber pads and a spray bottle fitted on the handle that you can fill with your favorite detergent. It can be used for both wet and dry mopping.
Washable kitchen cloths and dish sponges
Paper towel rolls can come in handy when cleaning certain surfaces, but you can also use kitchen cloths for wiping your hands or dish sponges for wiping away wet surfaces. Kitchen cloths are washable and sponges can be thrown away after multiple use. They can also save you from adding more things to bring home from the supermarket.
DIY home cleaning products are inexpensive, natural and so easy to make, why not try them and add your own personalized touches!
Get real time update about this post categories directly on your device, subscribe now.