Coincidentally, I first heard about evo a couple of months ago. My roommate, who had some admittedly tough haircuts and dye jobs was determined to get her hair back on track. She marched into a local hairdresser, laid down her credit card and asked the stylist to fix her. And fix her she did. Beyond doing a fabulous job with the cut and color, the stylist flagged evo as the only haircare my roommate should be using. For her, the brand was best-in-class when it came to taking care of my roommate.
Naturally, I was sneaky and "borrowed" a couple pumps from her supply in the shower. Sue me! I wanted to see what all of the hype was about. And hype it was. From the smell to the feel, I liked evo the moment I tried it that faithful day in the shower. I know I had to get my hands on the larger suite of products.
Below is my current arsenal of evo products. In the words of evo, inside their bottles "you'll find luxurious products that are sulphate, paraben, dea, tea and propylene glycol free; products that give professional results while respecting the environment." Additionally, "you won't find unnecessary, over-marketed ingredients; no imaginary technology, no myths, no gimmicks. All ingredients in evo formulations are active; nothing is added only to make claims on the label." Exciting! Without further ado…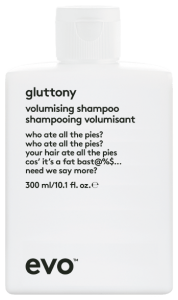 As always, shampoo comes first. Literally. As the name suggest, the Gluttony Volume Shampoo builds body and texture. It's also good for the girls who color their hair – since it's sulfate-free, it gently cleanses.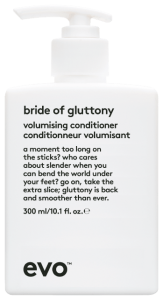 Big fan of the Bride of Gluttony. It adds volume without weighing down my hair which is something I look for in a conditioner. Additionally, it adds softness and shine to my hair.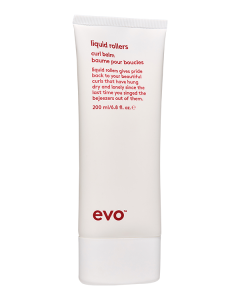 Something that I look for in a hair product? Ease of use. I am not a whizz with heat tools so when a product like Liquid Rollers come along, I pounce. It works on towel-dried hair to hold curls together and protect against frizz.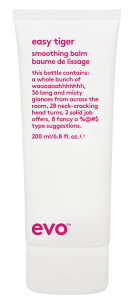 For softness and shine, reduced frizz and overall increased manageability, the Easy Tiger Smoothing Balm is the balm for you. Similar to the Curl Balm, this bad boy works on damp hair.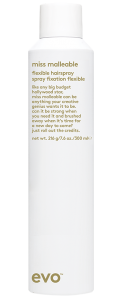 A hairspray is a hairspray is a hairspray – except when we're talking about Miss Malleable. The hold is flexible, meaning that it'll hold what it needs to but is also able to restyle with ease.