There are so many options for fake lashes out there! There are different styles, brands, and ways to apply them. When I typically think of fake lashes, I just think of the kind that are super long and come in one strip that you glue to your lash line. Truthfully, there are so many other alternatives out there, and it's important to know about them so you can choose the correct method for you!
Different ways to use fake lashes to elongate your own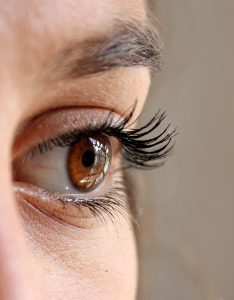 Strip Lashes
One of the cheapest and most traditional forms of fake lashes, strip lashes can be purchased at a drug store for a low price (some starting around $5-$10). The good news about these is that you can buy them in many different styles. Some are thicker, some longer — you can change up your lash size easily by purchasing different lengths. You also need to purchase an adhesive to stick the lashes onto your eyelid, which can be tricky at first to get the hang of. If you're looking for temporary lashes, strip style may be the way to go.
Extensions
This has become all the rage recently. If you're always on-the-go or don't want to worry about applying eye makeup, then this may be worth the investment. Yes, an investment – extensions are the most costly form of eyelash enhancement. It will cost you quite a bit your first time to get a full set, and then around $75-$150 per re-fill, according to InStyle.com.
These lashes last the longest and you don't need to worry about ripping out your eyelashes. The extensions fall out naturally.
Individual
Individual lashes are applied separately with a strong adhesive. These are good to create a more natural or customized look instead of one uniform strand of thick lashes. These can last up to weeks and are usually applied by an artist. But, it can also be a DIY using tweezers to stick them on.
Which style suits you best? Consider a few of these options the next time you want full, lengthy lashes!