Folks, it's the modern day. And with the modern day comes luxuries like ride-sharing apps, groceries delivered right to your door and self-cleaning water bottles. Yes, you read that correctly. Self. Cleaning. Water. Bottles. Personally, I grew up in a Poland Spring household with bottles of water being delivered on a biweekly basis. Then, I graduated to plastic reusable water bottles. And now, I've reached my peak with the LARQ self-cleaning water bottle.
Wait, Tell Me More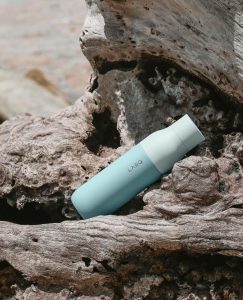 Gladly! LARQ is the world's first ever self-cleaning water bottle. The brand was tired of the plastic; specifically of the 1 million plastic bottles that are added to landfills every minute. Therefore, it's smarter, cleaner and better than any other reusable or non-reusable alternative that you've been working with up until this point.
For example, LARQ more than 10,000 times more hygienic than regular reusable bottles. Furthermore, it's worth it. It'll help you save up to $1,000 per year compared to buying bottled water. Ultimately, if you can't catch my drift, you need this bottle in your life.
How Does LARQ Work?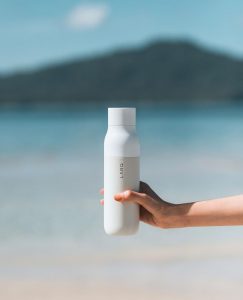 Let's get down to the nitty-gritty. First off, you can fill in the bottle wherever you go, similar to other bottles. Then, the magic happens. Next, by pressing the cap of the water bottle, you activate the purifying feature. A UV light that's built into the cap works to spread the purification around. Due to the UV-C LED chips being smaller, more energy efficient, non-toxic and more economical compared to traditional Mercury based UV technology, it's the better bottle. And then, voila! Fresh, clean water wherever you travel. It's essentially water purification for the digital age.
Charge it at home and take it with you everywhere. That's what I've been doing. From the gym to the office, I am no where without my LARQ bottle. Not only will you be doing your part to save the environment, you're giving yourself the power of clean, fresh water, wherever you roam.