Summertime: a time for days spent at the beach. picnics in the park with the warm sun on your back and Fridays where you get to leave a little earlier from work. But, on a real note, summertime (and most of fall, for that matter) also brings sweatiness and the inability to wear pants. Yes, when forced to wear shorts and skirts day-after-live-long-day, a woman's thighs will inevitably rub together resulting in irritation and distress. Megababe answered our prayers. There's a product now to save us all.
Thigh Rescue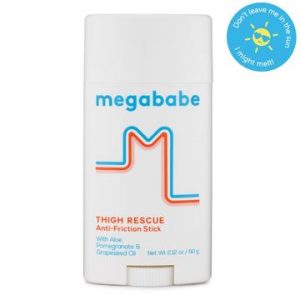 Megababe's Thigh Rescue has become a hot-weather staple for me since receiving it in the mail that fateful day. The name pretty much says it all. This product is here to save.your.thighs. It's something that is embarrassing to talk about and even more embarrassing to admit but truly, there's nothing to be ashamed of.
In essence, it's a non-toxic anti-friction stick. While it looks like a stick of classic deodorant, it's far from it. The balm-like formula helps to create a barrier that rests lightly on the skin. As a result, thighs glide smoothly as you walk. What a concept!
As far as ingredients, the stars of the show are aloe, grapeseed oil and Vitamin E; these are why your skin is so happy and hydrated post-use.
Oh, and if you weren't convinced? It was the 2018 Cosmopolitan Beauty Award Winner for Best Anti-Chafe Stick. It doesn't get anymore legitimate then that. So, do yourself a favor and cop a Thigh Rescue from Megababe asap. Your thighs will thank you later.