Please accept my apologies in advance. Once you read through this article, you may never be able to wear anything other than the customized, personalized wonder that is perfume from Olfactory. At the very least Olfactory will change the way you see buying perfume (in the best way possible). I came across Olfactory as most millennials do when discovering something new: via social media. A girl I follow was detailing her experience at the perfume Mecca in NYC and it was that moment that I knew I had to see it for myself.
It's no secret that I love perfume. Similar to how I feel about earrings and my phone, I don't leave the house without spritzing some on. I've detailed in the past how I wear perfume to convey a certain mood. Little did I know that a product existed out there that could capture the essence of Gilly. Am I being playfully dramatic for the good of the article? Yes, but not that playful.
What Exactly Is Olfactory?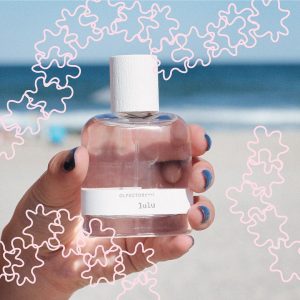 If we're getting really literal with it, Olfactory is an adjective "relating to the sense of smell." The Olfactory that I am talking about is a fragrance experience that is available not only online but via an experiential story in my home of NYC. Last Friday, I moseyed out of my apartment and into the world, walked a few avenues and there I was. When you walk into Olfactory, you're met with a charming layout, brightly lit with one wall lined up with their signature scents and the other wall with a space to mix the perfume.
The experience goes a little something like this. One of their wonderfully helpful and knowledgeable associates will guide you through their signature scents, allowing you to stop, smell, ask questions. Following the initial smell-through, they'll then ask you to narrow down your favorite signature scents to one or two. From there, you''re led to the table where you take a seat and let the magic happen. JJ, Olfactory's founder, guided me through more than 20 custom scents based on the original scents that I had liked the most. He took a perfume tester and added notes of this and notes of that until we landed on the scent that I liked the best.
Following the pivotal moment whereby I chose the "winning" scent, JJ then hand-bottled the perfume and personalized it with my name. I've been spritzing it every day since.
Why You Need Olfactory In Your Life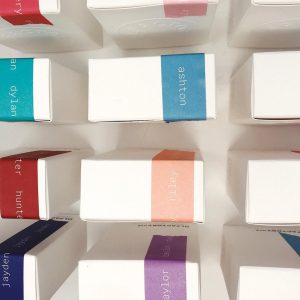 Finding your perfect scent is a little like solving your own personal jigsaw puzzle. If anyone else had tried to put together my personal scent, it wouldn't have worked. Like Cinderella's glass slipper, I wear my scent confidently and proudly. Knowing the love and magic that went into making it, it's easy.
Olfactory ships their signature scents on lines along with body washes, lotions and candles. They also have a great gift option, where the receiver can go into Olfactory for themselves to make a custom scent. All-in-all, Olfactory takes the joy of experiential beauty and combines it with an out-of-this-park product. If you're ever in NYC, a trip to the storefront is a must. If you can't wait until then, I suggest a deep dive on their website.