I'm a beauty and skincare junkie and I don't care who knows. Trying new products truly makes me so happy. What makes me happier is when I discover a new brand that I've never heard of. And what makes me the happiest? When I fall in love with said brand. That's pretty much what happened with Olio E Osso. I first came across the brand as I was scrolling through the shop of my favorite manicure & massage place in NYC, Chillhouse. After that initial moment, I saw the owner of Chillhouse, Cyndi Ramirez, cite Olio E Osso as one of her can't live without beauty brands via her Instagram Stories. Being a millennial and relying on social media to stay on trend and current, this was my signal to check them out.
Olio E Osso was founded by former makeup artist and stylist, Paola LaMorticella. When she came to realize her store-bought products were irritating her infant son's skin, she took matters into her own hands. Balm No. 1 was born to soothe her son's skin naturally, using simple ingredients without all of the non-nourishing stuff. From there, the brand was built with May Albano who helped launch Olio E Osso into what it is today.
I was lucky enough to try a few products from Olio E Osso and I can't wait to share them with you. Say hello to your new favorite beauty goodies, care of a company that cares.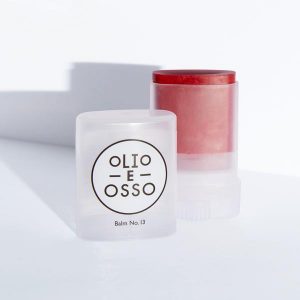 The first day that I wore this balm, I not only received compliments on the actual lip color, I received questions and compliments on the packaging. That's when you know a brand is hitting its stride. The balm is buildable, starting sheer and blossoming into a full blown lip tint depending upon application. Balms are meant for lips and cheeks, achieving the monochromatic flush of my dreams.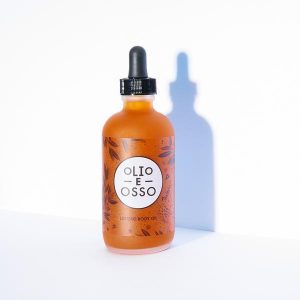 As soon as the weather drops below 50 degrees, my skin goes into full panic mode, drying out like you wouldn't believe. Not only is the Lustero Body Oil ultra-nourishing and hydrating, it has a fun twist: a golden shimmer. Yes, you read that correctly. I've been channeling the summer on evenings out when I want to look a little extra done up.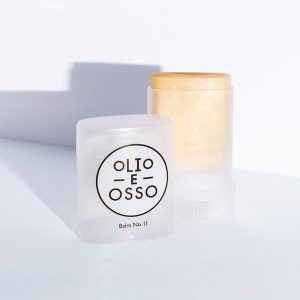 A hydrating balm and a stick highlighter come together to make up the beauty that is Olio E Osso's Balm No. 11. They describe the product as a "truly beautiful celebration of light." I've been using my fingers to swipe along my cheekbone, down the bridge of my nose and at the top of my cupid's bow for a little shine. It's also just a darn good shimmery lip balm.