So yes, I mostly enjoy writing about beauty and fashion. However, every now and then I discover a product that I love so much that I feel compelled to share with al of you lovely readers. Today, it comes in the form of sauce. Yes, you read that correctly. Sauce. Specially, Pizza Girl sauce born out of California.
It happened how all great loves happen: via Instagram. One day, I was scrolling through my 'Explore' page when Pizza Girl appeared. The moment I saw the branding, I was hooked. I sent an email. They sent the sauce. From there, true love and history was made.
About Pizza Girl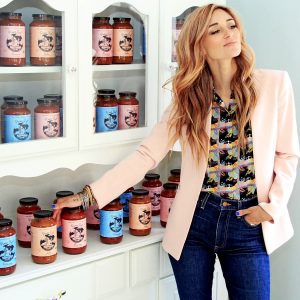 Pizza Girl was created by Caroline D'Amore, the daughter of legendary pizza restaurateur Joe D'Amore out of Los Angeles. Caroline continued the passion of her father in California by opening new locations of D'Amore's as well as launching their catering company and food truck. It was during all of this that she came up with the concept for Pizza Girl, a way to build on the D'Amore passion for authentic, Italian pasta sauce and food.
"Growing up in the restaurant industry, I lived and breathed pizza and old world Italian pasta sauce. I quickly became known as 'Pizza Girl'. Pizza Girl currently features a line of old world Italian pasta sauce and pizza sauces which honors my heritage through using my grandmother's recipes and my love of California by using only locally sourced 100% organic ingredients," said Caroline.
The Sauces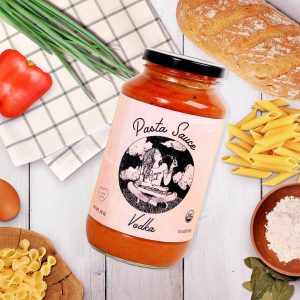 I was lucky enough to try both the Vodka Pasta Sauce and the Marinara Pasta Sauce. Growing up in New Jersey, I would say I have a deep appreciation for all things Italian, food included. Both of these sauces did justice to Italy.
The Marina Sauce originated in Naples, Italy and has been a long-lasting family tradition in the D'Amore family. The taste is so delicious and authentic that I like to serve it simply over a bowl of penne. The Pizza Girl website also has a delicious recipe for Baked Ziti that I'll be attempting to make this weekend.
Don't even get me started on the Vodka Pasta Sauce. Finding a good Vodka sauce is like searching for a needle in a haystack: next to impossible. Imagine my delight that the Vodka Sauce lives up to the hype. You can taste the heritage in every bite. This is the real deal.
Pizza Girl also has a Puttanesca Sauce that looks delicious. Essentially, if you love Italian food and love cooking, Pizza Girl needs to be in your pantry.