Praise be! Your favorite cult-skincare brand, Sunday Riley, is back with another amazing subscription box. Dedicated readers will remember how much I loved the first box I tried from them. You can read more about that here.
So imagine my delight in hearing that they debuted a new box, specifically for the summertime. Their latest box, curated by The Sunday Edit, comes stocked with a variety of full-sized and sample-sized items, each intended to take your summer to the next level. Check out the contents of the box below. And don't wait! These boxes are known to sell out rather quickly.
Tidal Brightening Enzyme Water Cream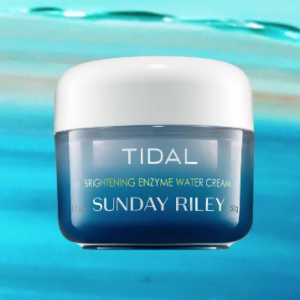 Lightweight and oil-free, this gel-cream will be your go-to moisturizer for the remainder of summer. Two forms of advanced hyaluronic acid help to infuse water into the skin while also gently refining papaya enzymes smooth textured and dehydrated skin. It's one of the first things I grab after washing my face in the morning and evening.
Good Genes All-In-One Lactic Acid Treatment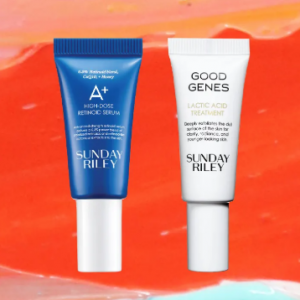 This is the product that hooked me on Sunday Riley in the first place. While I currently have the full-size product, this size is perfect to bring while traveling. It's a multi-tasking, targeted lactic acid treatment that rapidly exfoliates and boosts natural radiance. Do I have to say anything else?
A+ High-Dose Retinoid Serum
This serum is an advanced-strength retinoid serum which fights the signs of aging. Additionally, it improves the appearance of aging or damaged skin. I love it because it brings out a more even-toned complexion in my skin.
Lena Bernard Delfina Cuff Bracelet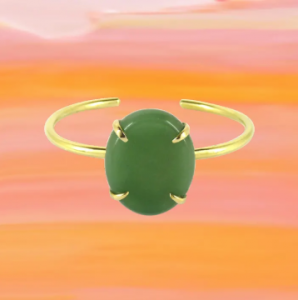 I have gotten so. many. compliments. Designer Lena Bernard cites her California upbringing as her source of inspiration and it's easy to say why. I love this cuff for work and for play. It has made an appearance in many a summer outfit of mine.
Tan-Luxe The Body Illuminating Self-Tan Drops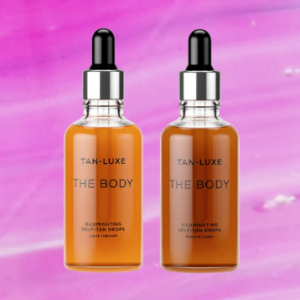 Before I had even tried these, I was a huge fan. My roommate's mom had sang their praises during a recent visit and I've been curious ever since. By adding a few drops into my every day moisturizer, these Tan-Luxe Self-Tan Drops provide amazing and realistic color with no streaks or smells.
R+CO Foiled Frizz and Static Control Spray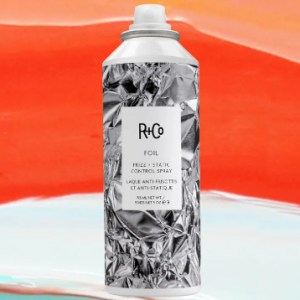 I'm a victim of frizzy summer hair as a result of the hideous humidity in New York City. R+CO's spray is great for getting rid of static by taming flyaway hair and eliminating frizz. As a result, you'll be looking runway ready even with humidity beating down on you.
W&P Design Cocktail Kit in Italian Spritz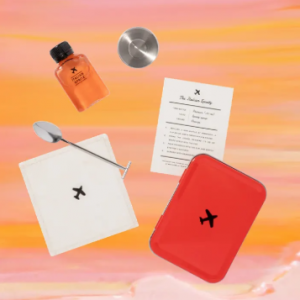 My eyes lit up upon seeing this Carry On Cocktail Kit. I've heading to Italy in October so it was basically fate. Inspired by Italian aperitivo culture, this kit includes the tools to craft to sparkling spritz cocktails mid-flight. How fun!
Real Techniques Everyday Essentials Brush Set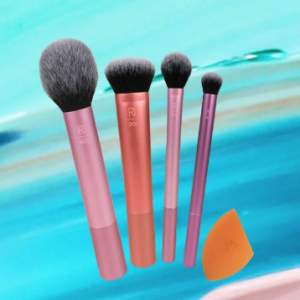 I'll admit, I'm embarrassed by how old my makeup brushes were before these bad boys arrived on my doorstep. Inclusive of five unique tools, you'll have the power to create pro-like makeup styles in your everyday beauty looks. Oh, more importantly, each brush is 100% cruelty-free, custom cut and easy to clean.
Coola Mineral Liplux SPF 30 Organic Tinted Lip in Skinny Dip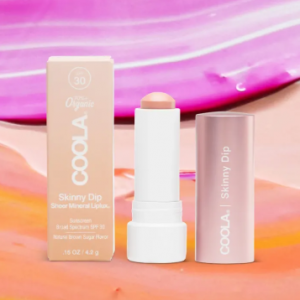 I've never met a lip balm I didn't like. That's actually a lie – I've met plenty. But I'm happy to say that Coola is in the former category. Not only is it chalk-fullof SPF, it also delivers a subtle, rosy color, perfect for a summer night. The amount of times I've swapped this from my beach bag to my purse is astounding.
Simon & Schuster Say You Still Love Me by K.A. Tucker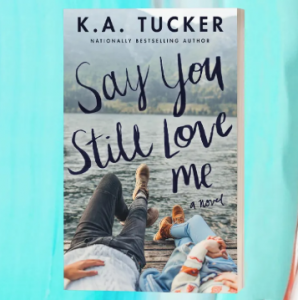 Beach reads are my weakness. This sizzling novel will keep you turning the pages while you soak up the sun rays. Essentially, it's about an ambitious and high-powered executive who reconnects with her first love who is coincidentally the boy who broke her heart.
Boy Smells Scented Candle in Kush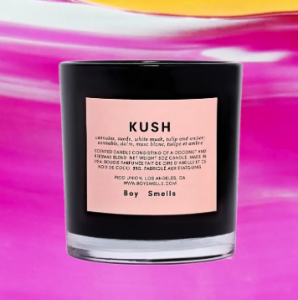 I am such a huge fan of Boy Smells, I really should be a brand ambassador by now. Not only is the packaging oh so chic, the smells are amazing. Kush happens to be one of my favorites. It's green and bright with a wisp of delicate floral.