One of the many baby milestones that we parents look forward to is when our little ones start growing those tiny baby teeth – teething. Our babies getting their first tooth out can be a jumble of emotions for us – that toothless grin sure is a happy pill, and seeing a tooth starting to take a peek out also does feel like a winning moment. And while the experience is an exciting one for our babies, it also brings out feelings of worry and anxiety because of the discomfort and pain that go along with teething. It may vary among babies, but some may experience excessive drooling and crankiness, while some do not experience these symptoms at all. Moreover, it can also take its toll on parents who may have to go through more sleepless nights in dealing with cranky babies who are teething.
In order to better aid fellow moms and parents in facing this milestone head-on, I have come up with the ultimate guide to teething in babies. This will tell you everything you need to know about baby teething: what it means, what you need to know when the baby's teeth have finally come out, what you should look out for during teething, how to take good care of those baby teeth, and ways to soothe the pain.
The Process of Teething
Interestingly, teeth begin developing while your baby is still in the womb and when tooth bud form in the gums, but the process of teething begins with what is called eruption, or when the tooth "cuts through" the gums as it emerges. This phenomenon certainly does not happen overnight; it may take a few months, or even a year, for you to finally see that hard, white thing emerging from your baby's gums. You may want to look for any physical manifestations as the tooth slowly breaks through the gums, but you will have to really take a closer look at your baby's gums for you to notice any changes; the gums may look a little swollen and the color a bit different, particularly where the new tooth may be emerging.
There is no exact date for teething, but your baby's first tooth will start to poke through at around four to six months. It is also possible for teething to begin in as early as two months or even as late as 14 months of age. The time when teething occurs depends on different factors such as genetic factors, or whether your baby was a preemie or not, so no need to worry if you think your baby's teeth emerged way too early or later than you expect.
The teeth in babies usually erupt in pairs. They may also erupt one at a time, or several teeth may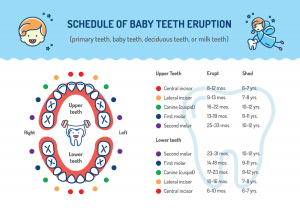 come at once. The very first to come through are usually the lower central incisors or the bottom front teeth. They are followed later on by the front teeth at the top or the upper central incisors. The lateral incisors, or the ones beside each of the central incisors, come next. Around the time your baby has reached his/her first birthday, the first molars have made their debut at the back of the mouth, followed by the canines, or the pointed teeth between the molars and incisors. At around 2 years of age, the second set of molars arrive. And at the age of 3, your child is expected to flash that complete set of 20 baby teeth.
You have to remember though that this can still vary from one baby to another. But once you see the arrival of your baby's first tooth, you better prepare yourself for the changes that come along with it.
Signs and Symptoms of Teething
Keep in mind that teething can occur differently from one baby to another, so aside from the obvious physical sign where you see the tooth poking through, there are some other symptoms that you may want to watch for.
Excessive Drooling – this is among the first signs that your baby is teething. It is yet unknown how babies produce excessive amounts of saliva, but there is a theory that the increased muscle movement in the mouth while teething stimulates chewing, which in turn activates that salivary glands. So, if you see that your baby is drooling a lot and there is a lot of soaking wet bibs and shirts, then you can suspect that your baby is already teething. This excessive drooling can also cause a facial rash on your baby.

Biting and chewing – emerging tooth beneath the gums causes pressure, and your baby will feel irritated by this. This can be relieved by counterpressure, which makes your baby want to bite on things, such as their toys, clothes, crib rails, and they will even shove their fists into their mouth.

Gum rubbing – this is your baby's way of somehow easing their discomfort and relieving the pressure on their gums caused by emerging teeth.

Puffy gums – as mentioned earlier, the gums may appear red and swollen, especially in the area where the tooth is about to erupt.

Fussiness – your baby becomes irritable and fussy because of the movement of the tooth through the bones and gum during tooth eruption. These activities during tooth eruption usually happen more in the night than during the day, so you may find your baby crying or moving around in their sleep due to the discomfort.

Ear pulling – if you see your baby tugging his/her ear, it may mean that the pain from tooth eruption gets transferred from the jaw to the ear canal.

Change in eating patterns – the irritation and discomfort brought about by teething may also affect your baby's eating habits. For instance, if your baby eats solid food, they may want to switch to breastfeeding or bottle-feeding because the spoon irritates their gums. Or, it could be the opposite for other babies because chewing acts as a counterpressure. Other babies may also lose their appetite because of the pain and discomfort.
What are NOT Signs and Symptoms of Teething
Some parents say that the following symptoms may be associated to teething, but there is no concrete scientific proof to support it. Some experts say that these symptoms are more likely caused by something else. What are these symptoms?
Fever – low-grade fever may be caused by gum inflammation, but some experts say that it is not a typical symptom.

Diarrhea – this most likely means that your baby was exposed to a virus or bacteria, or your baby has eaten something that didn't agree with them.

A runny nose

Lethargy
If you noticed these symptoms while your baby is teething, you may need to consult your pediatrician.
How to Soothe a Teething Baby
Seeing our baby in pain and discomfort is a big no-no for us moms; fortunately, there ways for us to ease the pain brought about by teething:
Cold washcloth – the cold temperature can alleviate the soreness of the gums.

Cold food – this can also relieve your baby's sore gums and can be a used to coax your baby into eating especially if he/she has lost his/her appetite.

Teething toys – there are many types of toys to choose from, and you may also chill them, so the cold temperature will soothe the pain in your baby's gums when they chew the toy. However, you must be careful in selecting from the different types of toys and must always ensure the safety of your baby.

Rubbing your baby's gum may also alleviate the pain, but make sure that your hands are clean

Distraction – you read that right; you can try taking your baby's mind off the pain by distracting them. A little cuddling can also help distract your baby from the pain

Pain relievers – some doctors also recommend acetaminophen or ibuprofen to ease teething pain, but only in the correct dosages.
Remedies that must be used with caution
You should exercise caution around the use of these remedies:
Amber Necklaces – you should be careful with these as they can pose choking hazard on your baby.
Numbing gel – they may also be worth a try as they are believed to be ideal for short-term pain relief, but experts advise against the use of those that contain Benzocaine, which has been associated with the condition called methemoglobinemia.

Essential oils – there are moms who could attest to the effectivity of essential oils, but then you have to remember that babies have different reactions to various substances, so you should use these with caution.

Whiskey – grandma may argue that she has used this is the past and that it had definitely worked, but alcohol is bad for babies.

Homeopathic teething products – these products have not been evaluated or approved by FDA for effectiveness and safety, so you may want to be careful with these. Furthermore, they are believed to contain belladonna, a substance that causes side effects such as hallucination, blurred vision, faster heartbeat, convulsions, coma, and even death.
Teething is but a natural part of your baby's growth and development. It can be uncomfortable and painful for your baby, and it's but natural for moms to also feel for our babies whenever they are suffering. But by finding the right remedy that works best for you and your baby, teething should not altogether be a terrible experience, but rather a smooth sailing one for you and your baby.
https://www.parenting.com/article/guide-teething-symptoms
https://www.parents.com/baby/health/baby-teeth/baby-teething-timeline/
https://www.babycenter.com/0_teething-your-babys-first-teeth_11243.bc
https://www.webmd.com/parenting/baby/teething-symptoms-remedies#1
https://www.mouthhealthy.org/en/az-topics/t/teething