I know when I am scrolling through my feed nothing will stop me in my tracks like a good parenting meme. I laugh, I cry, I feel connected with my fellow parents down in the trenches just trying to survive. And let's face it, us moms spend most of our time with little humans, sometimes those we follow on Instagram feel like the long-lost BFF we all need. Their posts tell it like it is, the good, the gross and even the brutality of parenting. I hope you laugh out loud, nod you in agreement shouting "Yes! Sister!" when you see a meme that says "I know when my friend's kid went to sleep because she texted me back" (thank you Scary Mommy)
Or the other thing I love is when I can tag my husband in things that remind me of something we are going through. The other day I saw something that said something like "marriage is just your partner eternally being in front of the cabinet or drawer you need to get into." or something like that. I probably should have saved it. Anyway, it was just so right on, I mean the man is always in front of either the trash can or the drawer that I need when I am doing something in the kitchen. ALWAYS.
So without further ado, here are my favorite wrong, but in oh so right way Instagram accounts you should be following too:
@MommyCusses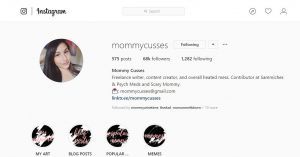 @Momsbehavingbadly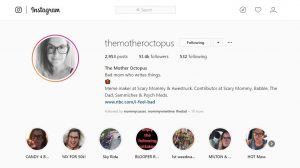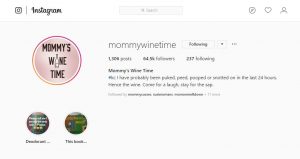 A final word from our sponsor… Just kidding it's me.
Now… For a word of caution. While I love me some Instagram, it can also be a huge time suck for me. I mean, all of a sudden I have been down the rabbit hole for hours and accomplished absolutely nothing. So for me, my ideal time for scrollin' is when the kids are in bed. I know, I know I should be reading a book. But on nights that I do actually get to zone out and not work on something that's either due or past due, then I like to indulge myself in some quality instatime. The other thing I love about these accounts is that it keeps me from spending time on accounts that give me that dreaded disease, comparisonitis. It's really easy to fall into that trap of, oh look at how happy they are or oh my gosh that didn't pick me for the photographer this year. WaaaWaaaa. SO instead, I follow things that make laugh. But that's just me and what do I know (insert shrugged shoulders lady emoji here)
Well, what I do know is that when I am not sucked into my phone comparing myself or swiping through 50 pics of celebrities I like. I mean do I really need to see every instastory and pic of G Easy and Halsey in Italy? (again insert shrugged shoulders lady emoji here or hand on forehead lady emoji) Definitely not but that is what happens. I mean it happened this morning, I was supposed to be responding to a dm from a client, and I found myself stalking two famous peoples Italian vacation. My point? Insta wisely.
Get real time update about this post categories directly on your device, subscribe now.