We all know that taking vitamins can quickly become a chore, so why not swap out the dozens of bottles that are slowly collecting dust, for a beauty vitamin that does it all? Vitamin Babe was created with a vision to give people with busy lives, a fast and effective way to take care of three needs at once. This miracle product, the Glow and Grow hair skin & nails vitamin, does exactly what the name suggests.
Skin Benefits
While we haven't quite discovered the fountain of youth yet, Vitamin Babe got pretty close with its unique recipe for anti-aging. The holy grail inside Vitamin Babe's formula for glowing skin, is vitamin E. This ingredient acts as a protective barrier for your skin cells, keeping them moisturized and plump, which leads to the appearance of a bouncy and dewy face. Even better, Vitamin E has a superpower when it comes to skin's worst enemy; sun damage. It works by absorbing UVB light, so your risk of being burnt by damaging rays actually decreases, it's like having built-in SPF!
Collagen is also a key ingredient, and for a good reason. Loss of collagen is natural as the body ages, but it is also associated with the appearance of wrinkles, and drooping skin. By replenishing your body with this ingredient, you can turn the clock back and revisit your skin's more youthful days.
Hair Benefits
Hair is one of our best accessories. You can dye it, cut it, and style it to match your mood… but it can be so frustrating! Wrangling with the comb and tugging at hair that just won't grow are battles we all face, and it's time we win the war once and for all. Almost every ingredient in the Glow and Grow supplement provides benefits for hair health, but for the sake of boring you to death with scientific facts, I will focus on my favorites.
My first honorable mention is Vitamin A, which all cells (especially hair cells) need for growth. Vitamin A also helps your glands secrete sebum, which naturally moisturizes hair from the scalp. As a result, your hair will be smoother, frizz-less and better protected from heat damage.Biotin, a cult favorite, is also included to promote hair thickness and aid in the production of Keratin. Keratin is an essential protein that prevents breakage and helps hair grow strong and healthy.
Nail Benefits
Never have I looked down at my fingernails and seen any resemblance to the flawless hand that models the newest shade of essie nail polish. I've lived my life with brittle and almost always chipped nails, which are finally getting the nutrients they need because of Vitamin Babe. The magic lies in Biotin and Zinc, which strengthen the nails and protect them against breakage. Zinc is also essential for nail growth, so you can finally say good-bye to the stubby look.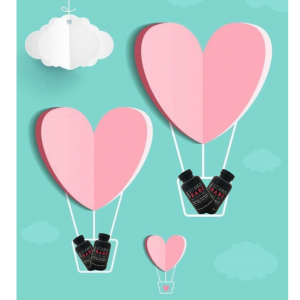 I could sit here and write an entire novel about why I fell in love with Vitamin Babe. Not only did they create the holy grail of beauty supplements, but they have a vibe around their brand that radiates positivity, carefreeness, and pure fun. Check out their website and Instagram page for a pop of pink that will brighten your day.