Everyone wants a whiter, brighter smile. Luckily, there are many great options out there that can whiten your teeth. The unlucky part? These options don't work for everyone. Professional dental teeth whitening, veneers, or crowns are a big investment, and the cost of teeth whitening sessions can add up quickly.
Many people turn to at-home remedies that are much cheaper and easier to manage. While they may not turn out the same results as the dental procedures listed above, these DIY methods may help give your smile the little boost you are looking for.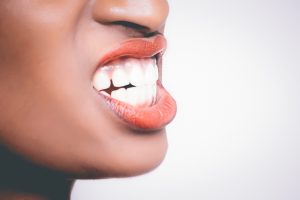 Baking Soda
Many toothpastes contain baking soda. It contains a lot of whitening properties and acts as an abrasive to erase surface stains. Baking soda also helps prevent bacteria build up in your mouth. This method can be used by purchasing a toothpaste that contains baking soda. You can also create a mixture by combining the soda with water. The results won't be immediate but will help whiten teeth over time.
Reduce staining food consumption
This is probably the least favorable alternative! Try to reduce beverages or foods that cause teeth discoloration. This includes wine, coffee, dark berries, and tomato sauce, just to name a few. After eating or drinking, brush teeth immediately to prevent new stains.
Apple cider vinegar
Apple cider vinegar can be used as a disinfectant. The acid in the vinegar kills bacteria, which can help clean and whiten your teeth. You can mix it with water and use as a mouthwash. However, it can soften teeth over time, so be sure not to use this method every day.
There are also alternatives that you can buy at a drug store, such as Crest White Strips. The good news is, there are many options out there for people who want to enhance their smile, but don't want to break the bank. Go explore these options and choose the one that's right for you.